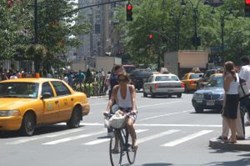 New York, N.Y (PRWEB) January 08, 2014
The New York Law Journal has listed the top settlement amounts obtained by personal injury lawyers under various categories statewide. New York personal injury lawyer Kenneth A. Wilhelm placed at the top of this list in two categories bicycle accidents and motor vehicle passenger accidents, out of over 166,000 lawyers.
The law firm's bicycle accident case (31734/2009, Queens County Supreme Court) was settled in January 2013 for $ 5,600,000. According to court documents, the bicyclist was struck by another vehicle. Court records also show that the defendants had deemed the bicyclist at fault for being under the influence of alcohol, not wearing a helmet, and suddenly moving in front of the van that hit him.
The other case (27054/2010, Kings County Supreme Court) involved a husband who was injured in a car accident while traveling in a vehicle driven by his wife. Under N.Y. State Insurance Law, the husband cannot sue the wife. According to court documents, the car collided with a truck and the injured client's wife was determined by the judge to have been 100 percent at fault. This case, documents show, ended in a $ 2,550,000 settlement, even though the husband did not and could not have sued his wife under N.Y. Insurance Law.
"We're extremely pleased to have been placed on top of the New York Law Journal's list of highest 2013 settlements in these two vital categories," said Kenneth A. Wilhelm. "These results motivate us to continue to fight hard for our injured clients in the coming years."
Wilhelm said the two cases proved extremely challenging, making the results obtained particularly gratifying. "At the outset, the odds seemed stacked against us in both of these cases and our success was really due to our team's skill and perseverance. I'm truly proud of our skilled lawyers and dedicated staff."
About the Law Offices of Kenneth A. Wilhelm
The Law Offices of Kenneth A. Wilhelm is a personal injury litigation firm with an unwavering dedication to its clients. With more than 42 years of experience, our firm strives to obtain the best compensation for those who have been injured or those who have lost a loved one due to an accident or by someone else's negligence. We handle cases dealing with personal injury, medical malpractice, wrongful death, workers' compensation, dental malpractice, motor vehicle accidents including car, bus, train and truck accidents, pedestrian accidents, rape, paralysis, comas, seizures, false arrest, lead poisoning, trips and slips and falls, falls on sidewalks or stairs, elevator accidents, construction accidents, Erb's palsy, cerebral palsy, brain damage, blindness, hearing loss, dog bite cases, fire and smoke inhalation accidents, bicycle accidents, falls from windows or scaffolds, food poisoning injuries, and many other types of accidents and injuries.
Please contact us TOLL FREE 24 hours a day, 7 days a week at 1-800-WORK-4-YOU (1-800-967-5496). WE CAN EVEN COME TO YOU. There is no attorneys' fee unless we recover money for you. We can also help with personal injury cases in New Jersey, Connecticut, Pennsylvania, or Florida. If you have been seriously injured in any of the 50 U.S. states, please call us and we will try to help you with your case.
Other TOLL FREE phone numbers for us are:
1-800-RADIO-LAW, 1-888-WYPADEK, OR 1-800-LAS-LEYES
The Law Offices of Kenneth A. Wilhelm

445 Park Ave, 9th Floor

New York, NY 10022

(212) 545-7373
Please visit us at: http://www.WORK4YOULAW.com