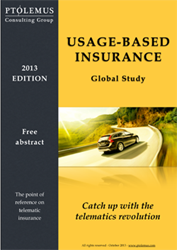 London (PRWEB UK) 16 October 2013
Since the release of the first edition in June 2012, the market share of Usage-Based Insurance (UBI) policies has doubled. PTOLEMUS evaluates that 5 million vehicles are today covered by Pay-As-You-drive (PAYD) or Pay-How-You-Drive (PHYD) policies. This is only 0.6% of the global motor insurance market, yet represents 3.5 billion in premiums.
The UBI Global Study brings unparalleled analysis of the drivers behind the sectors rapid growth and of the challenges ahead, together with a complete set of best practices to successfully launch new UBI services.
Published on the 21st October, the full report comes with a free 100 page abstract, which is available to download today from the PTOLEMUS website. The abstract brings together the critical findings of the 3-year research and details the fundamentals of the UBI market with:


The interviews of 3 pioneers in telematics insurance: Dave Pratt, General Manager UBI at Progressive Insurance, Fabio Sbianchi, CEO of Octo Telematics and Carmine Carella, CEO of Cobra Telematics SA
An overview of the global UBI market today with 4 case studies and market sizings
An analysis of the insurance sector worldwide and the impact of UBI with a never-before-seen synthetic analysis of the US filing process.
The free abstract can be downloaded from http://www.ptolemus.com/ubi.
The 2013 UBI Study doubles last years edition in analytical depth and breadth. Amongst other, it identifies:
The most successful UBI models answering the perennial question: "why give a discount to the most lucrative policyholders?
The market drivers and challenges for insurers to start a UBI programme
Which markets are most receptive to UBI, and how to increase customer acceptance where it has been implemented
The technology trends and the ways to assess, compare and choose technology solutions
This study comes at a critical time for the UBI market and is invaluable to insurers and service providers, as the motor insurance market faces structural losses due to heavy price competition and rising claim costs.
Telematics-based insurance offerings have the potential to bring the insurers new competitive advantages, notably better risk pricing and lower claims costs.
The abstract entitled UBI Market Fundamentals provides a snapshot of the UBI industry today and an understanding of the key questions facing the insurers. Download the Free Abstract today here and receive instant notification as soon as the full study is published.
About PTOLEMUS
PTOLEMUS Consulting Group is the first strategy consulting firm entirely focused on telematics and location-based services and. Run by Partners in Brussels, London, Paris, Milan, Hamburg and Boston, PTOLEMUS assists leading insurers, car makers and service providers in defining and executing their telematics strategy.
For press relation and more information about the study, please contact Thomas Hallauer on thomas(at)ptolemus(dot)com.