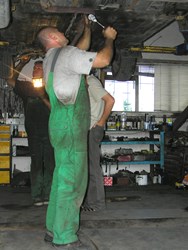 (PRWEB UK) 4 October 2013
Vehicles used on the road in the UK must be kept in a roadworthy condition. The MOT (an abbreviation of the Ministry of Transport) test checks that a vehicle meets the road safety standards required in this country.
The guide to MOT tests aims to provide drivers with information on when a test is required, where a test can be carried out and what is looked at as part of it. This adds to the stable of information available to drivers on simple car maintenance and money saving tips offered on the Tiger.co.uk site.
Andrew Goulborn, Commercial Director of the car insurance comparison site, commented: The law in the UK requires any vehicles that are driven on the road to be kept in a roadworthy condition and the MOT test is in place to make sure that is the case. That said, not many people really know what is involved or what to look out for so we have written this guide with that in mind. Hopefully it should help people to better understand what takes place when they drop their vehicle off at the test centre.
About Tiger.co.uk:
Tiger.co.uk is a trading name of Call Connection Ltd. Tiger.co.uk is a UK based, independent motor insurance comparison site, offering insurance quotes from over 150 insurance brands. Call Connection Ltd is authorised and regulated by the Financial Conduct Authority (number 308374).